Legislation for the Corporate Sustainability Directive (CSRD) is progressing. The European Commission has officially adopted the first set of European Sustainability Reporting Standards (ESRS) for all companies as a delegated act under the directive. The CSRD sets new rules and standards for sustainability reporting. A broad set of large companies and SMEs, nearly 50 000 of them, will be impacted by the regulation. CSRD broadens and deepens existing non-financial reporting significantly and increases transparency of the information.
However, CSRD is not merely a reporting exercise but entails important strategic implications for all management to consider: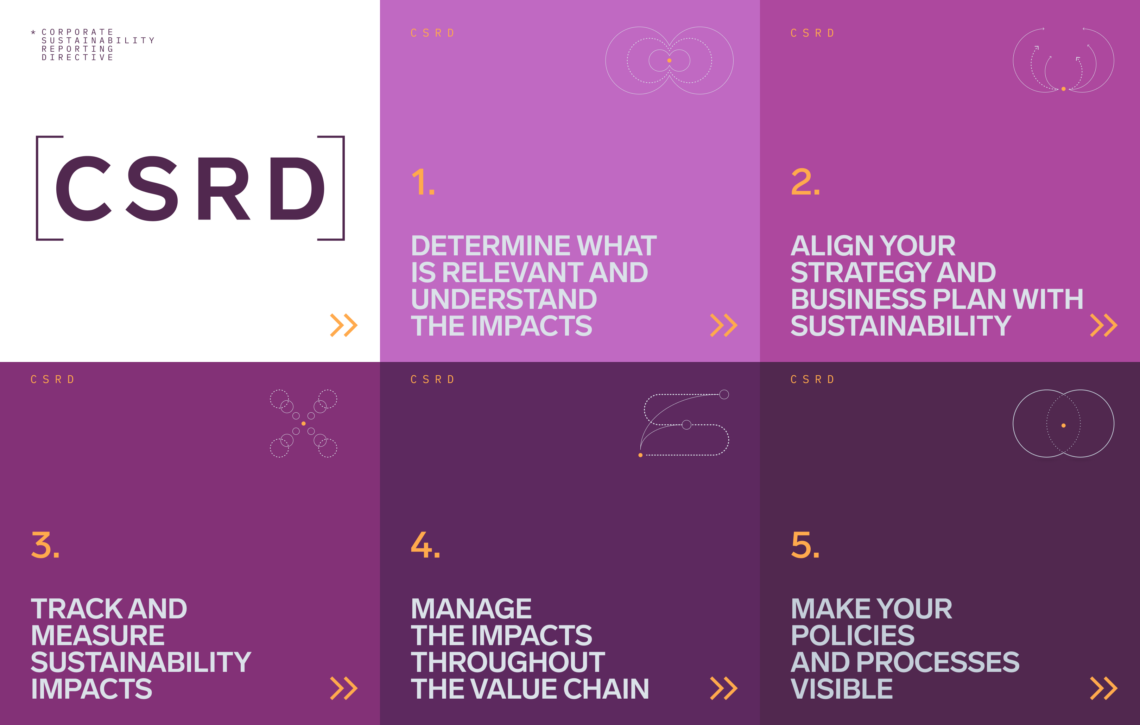 Determining what is relevant and understanding the impacts
The CSRD requires companies to assess both how the company impacts people and the environment as well as sustainability related impacts on the company. This concept called double materiality aims to identify topics that the company has a material impact on and topics that can create financial risks and opportunities for the company. For this purpose, the companies are required to conduct the materiality analysis to determine what sustainability topics the company should report on. In addition to helping companies to scope their reporting, identifying material sustainability topics enables companies understand their impacts and recognize opportunities for their business.
To conclude, it's increasingly important to identify what sustainability themes move the needle and are relevant to your business, stakeholders, and society. Companies that put effort on identifying business relevant sustainability topics and set objectives accordingly are proven to perform better in the long run[1].
Aligning your strategy and business plan with sustainability
Business strategy and sustainability can no longer be dealt with separately. The CSRD requires companies to consider how the company's strategy affects material sustainability topics, its business model and value chain. Management also needs to consider the resilience of its strategy and business model and its capacity to address sustainability impacts, risks, and opportunities, for example related to climate change. At its best, the CSRD can help to adopt a strategic approach to sustainability and to accelerate what we at Gaia call susformation: the transformation into truly integrating sustainability as a key component of the organization's strategy and operations.
Measuring and tracking sustainability impacts
Whether we are talking about climate or water, it is essential to understand how your company impacts these areas directly and through its value chain, both upstream and downstream. The CSRD also emphasizes interlinkages between topics, for instance acceleration of climate change and biodiversity loss. For the topics that have been identified as material, the company needs to develop how to measure and follow up on the impacts as well as devise actions and targets to improve performance.
Managing the impacts throughout the value chain
Focusing solely on your own operations is no longer sufficient. Companies need to assess their impacts, both direct and indirect, throughout the entire value chain including employees, customers, and local communities. After identifying the impact along the value chain, the company is able to prevent, mitigate and remediate them. Due diligence processes should be both systematic and inclusive, involving both company management and affected stakeholders.
Making your policies and processes visible
The CSRD involves a lot of qualitative datapoints on different policies and processes. To start with, companies should consider what practices exist within the organization, are these processes well defined and documented and what new practices and policies need to be developed. In practice, the CSRD requires companies to develop rigorous processes to collect and consolidate sustainability data.
What happens next?
The delegated act will be formally handed to the European Parliament and to the Council for scrutiny during the second half of August. The review period runs for two months, extendable by a further two months. The European Parliament or the Council may reject the delegated act, but they may not amend it.

The CSRD reporting is scheduled to begin for companies previously subject to the Non-Financial Reporting Directive (NFRD) already in financial year 2024, with first sustainability statement published in 2025. The coverage of the reporting extends to large companies by 2026 and listed SMEs between 2027 and 2029 (correspondingly from previous financial year).
Overall, the CSRD enables you to manage your sustainability performance and adopt a more strategic view, hence enabling the integration of sustainability to your business. Follow Gaia blog for more CSRD insights coming later.
Do you want to hear more about CSRD and how to improve your sustainability performance? Contact us.
[1] Harvard Business School, Ioannou & Serafeim (2019) and Harvard Business Review, Serafeim (2020)
Susformation – the way into a sustainable future | Gaia.fi
The voluntary carbon market is in flux – what is the latest you need to know? | Gaia.fi

Sustainable strategies, Market research, Financial analysis, M&As
johanna.tavia@gaia.fi
+358 40 673 0789
Banking, Finance, Capital Structure Considerations, M&A, Risk Management, Effective Processes, Strategy Creation, Turning strategy into action, Change Leadership
mirka.lummaa@gaia.fi
+358 50 4233824