Avoidance is the most effective carbon emissions management strategy. At Gaia, we systematically decrease our environmental impact by choosing to purchase renewable electricity, favouring public transport in business travelling and paying attention to the consumption of energy, water and office materials.
We have been calculating, compensating and reporting our carbon footprint since year 2008. The residual company emissions that could not be avoided, we compensate by 200% through a reliable offset provider. Thereby Gaia has been a climate positive company since 2012. The carbon offset project is selected every year among projects that target climate mitigation while promoting sustainable development.
Systematic monitoring and transparent communication
The framework that Gaia uses to calculate and report its greenhouse gas emissions is the world's most widely utilized standard for an organization's carbon footprint: The Greenhouse Gas Protocol Corporate Standard. According to the standard, CO2 emissions are calculated in three categories: Scope 1 (direct process emissions), Scope 2 (indirect emissions from the generation of purchased energy), and Scope 3 emissions (all remaining emission sources).
In 2018, our activities generated 81 tons of emissions of carbon dioxide equivalents (CO2e) which is 29 % more than in the previous year. Therefore, we are offsetting 162 tons of greenhouse gas emissions (double of what we generated) through a Gold Standard certified project "Solar Cooking for Refugee Families in Chad". Since 2005, this project in Chad has equipped 40,000 families in refugee camps with the material and training to manufacture and to use solar cookers to prepare their meals. While improving health and safety of the refugee families and promoting women empowerment and employment, the project also slows down deforestation and saves 20,000 tons of CO2e greenhouse gases a year.
Business travel the single largest source of carbon emissions at Gaia
The largest share of Gaia's carbon footprint is attributed to Scope 3 emissions. Business travel is the main source of emissions covering 84% of Scope 3 emissions and 73% of Gaia's total emissions. 2018 was a great year of growth for Gaia with several international projects which increased the need for air travel. We are aware of the risks that the growing global air traffic poses to the environment and thus avoid flying whenever possible by using electronic communication media. We aim to choose direct flights since it is known that a significant proportion of carbon emissions come from takeoff and landing.
Global electricity use of ICT is estimated to be 2,000 TWh each year (Nature 2018). It equals 23 times the total electricity consumption of Finland in 2018 (Finnish Energy 2019) and accounts for more than 2% of global CO2 emissions (Nature 2018). In 2018, we put effort into calculating the climate impact of use of ICT at Gaia. In general, emissions from the electricity consumption at Gaia offices are low as the electricity purchased by Gaia is produced by renewable sources. However, we are working approximately half of the time outside the office and charging laptops at home and from public outlets.
According to our calculations, the annual electricity consumption of remote work is 1.000 kWh. Furthermore, our server provider estimated the electricity use of our network devices to be 100 kWh per year. Generation of 1.100 kWh of electricity corresponds to 320 kg of CO2e calculated by the Finnish residual mix. The same amount of greenhouse gases is emitted if you drive 2.105 km (from Helsinki to Utsjoki and back) on a fossil-fuel car.
The most effective way Gaia can contribute to climate change mitigation is through our business. In our daily work, we focus on tackling global warming and finding low carbon opportunities together with our clients and partners. Gaia offers a wide range of climate change services from corporate climate change strategies to carbon management plans, from eco-efficiency analyses to climate risk assessments.
Gaia's carbon footprint 2018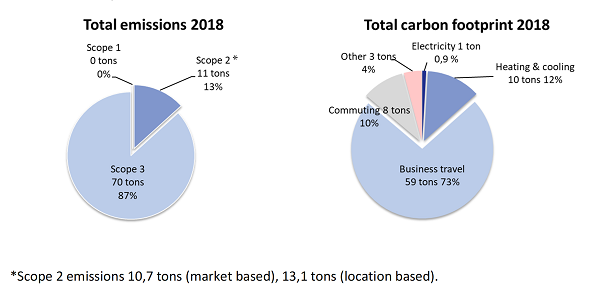 More information
Pasi Rinne, Chairman of the Board, firstname.lastname@gaia.fi, +358 400 464 127
Anna Laine, Senior Consultant, firstname.lastname@gaia.fi, +358 50 513 1260
Heli Sihvonen, Consultant, firstname.lastname@gaia.fi, +358 44 360 6664
References
Nature 561, 163-166, 2018
Finnish Energy, Energy year 2018 – Electricity. Published: 04.01.2019, updated: 12.04.2019