Climate change is one of the largest global crises, affecting every level of society. We have collectively committed to mitigating global warming to 1.5 degrees. However, we are not yet on the path to 1.5 degrees, and much remains to be done – also for businesses.
Reaching carbon neutrality will entail unprecedented emission reductions in every industry and sector of society. Greenhouse gases must be reduced using a variety of technical and economic means, and the remaining emissions must be offset.
Pressure towards businesses to act for the climate has increased substantially over the past few years. Stakeholders from owners to investors to consumers expect proactive solutions for mitigating and adapting to climate change. Businesses should not only reduce their own emissions, but also create solutions for a low carbon society. By now, businesses have awoken to the urgency of the climate crisis: they are, for example, setting science-based climate targets, building out roadmaps for carbon neutrality, and creating new products and services that enable carbon neutral living.
 

"Consumers have a significant opportunity to vote with their wallets for a carbon neutral world. For example, 70% of Finns' carbon footprint is associated with individual consumer choices."
Climate awareness has also grown among consumers, become more and more visible in individuals' behavior and demands. Consumers have a significant opportunity to vote with their wallets for a carbon neutral world. For example 70% of Finns' carbon footprint is associated with individual consumer choices.
Today's consumers make more and more value-based choices and change their consumption behavior. Most Nordic consumers want to make more sustainable choices, and over 60% favor sustainable brands. At the same time, over 60% of consumers find it challenging to recognize sustainable products. Many consumers are looking to businesses for clear information on climate impacts, transparent communications on climate action, and solutions for a carbon neutral or more climate-smart lifestyle.
A label for guaranteed carbon neutrality
Clearly the climate impact of products is becoming more and more important in determining individuals' purchasing decisions. But how can a consumer identify products that are truly the better choice for the climate? Knowing the carbon footprint of a product is a good start, but it alone does not support consumer decision-making or help choose products that support a carbon neutral lifestyle. It can be difficult for a consumer to compare the carbon footprint of a product to that of competitors, let alone know what the manufacturer has concretely done to reduce emissions.
To support decision-making, consumers need a clear and reliable sign that a manufacturer is aware of its product's climate impact and is working to reduce that impact. Here, the Gaia Carbon Neutral label offers a solution. The label is a quick way for consumers to see, at a glance, that a manufacturer is actively working towards carbon neutrality and has reliably offset remaining emissions to provide the consumer with a climate-smart product.
Carbon neutrality adds value in many ways for climate-smart companies
Wine importer and Gaia's climate-smart partner Vindirekt has launched its carbon neutral sparkling wine Think, and is among the first to begin using the Gaia Carbon Neutral label. Vindirekt's Marketing Manager Meri Dow elaborates on the Carbon Neutral label and the added value it brings to the business:
How did you end up certifying your product for carbon neutrality? What motivated or encouraged you to do this?
The Think sparkling wine was born, as the name suggests, from the need to think about what us wine importers can do for the climate. We started a pilot project with the aim to find out more and challenge ourselves and the whole industry in a positive way to build better solutions as well as openly share information. As a transparent and verified third party label, the Carbon Neutral label gives us the certainty that we are headed in the right direction, while helping the consumer in a world filled with often complicated choices.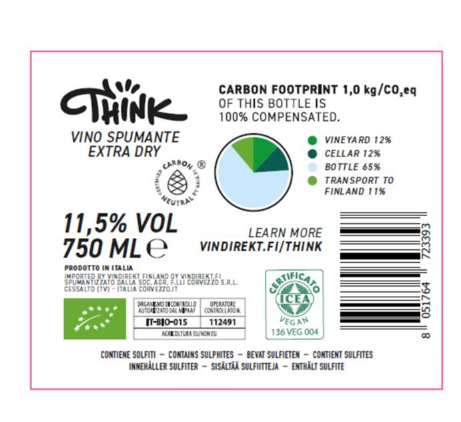 The market is filled with numerous climate labels and service providers. What made you choose Gaia as your partner for carbon neutrality?
We had assessed Vindirekt's operating models together with Gaia as part of our internal sustainability targets in 2016, and this collaboration worked splendidly. We felt that Gaia also understood SMEs and our industry. With the Think project, we wanted to choose as many local, Finnish providers as possible, and after hearing about Gaia's label, the choice was quite easy for us. We strongly believe that having a local label in this matter is a big competitive advantage.
What added value do you feel that carbon neutrality and the Carbon Neutral label brings to your business?
The most important added value is in how it supports our staff's shared values and operating guidelines. Being able to communicate to our customers clearly and transparently how they can influence the world through their lifestyle choices also brings us immense business value. Sustainability doesn't need to be a serious and complicated topic – though it does need to be taken seriously.
Ulla Heinonen, Managing Director, Gaia Consulting
Meri Dow, Marketing Manager, Vindirekt
The Gaia Carbon Neutral label is a Nordic certification for products, services, and organizations that have been verified carbon neutral by Gaia. The service includes carbon footprint calculations based on international standards, ambitious emission reductions, and offsetting remaining emissions with projects that meet Gaia's high quality compensation criteria. The Carbon Neutral label offers companies a reliable, readymade carbon neutrality concept and partner to ensure real climate benefits and help communicate climate benefits clearly and transparently.